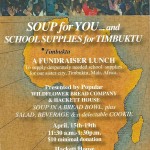 Please join us for Lunch at Tempe Sister Cities Hackett House during the week of April 15-19 as lunch will be presented by the Wildflower Bread Company and Hackett House. Each day during the fund raiser from 11:30 a.m.-1:30 p.m Lunch will include soup served in a bread bowl plus salad, beverage and a delectable cookie.
Daily Soup Menu:
Monday: Potato Cream Cheese & Garden Vegetable
Tuesday: Potato Cream Cheese & Spring Asparagus
Wednesday: Potato Cream Cheese & Roasted Garlic Tomato
Thursday: Potato Cream Cheese & Broccoli Cheddar
Friday: Potato Cream Cheese & Corn & Green Chili Bisque
"Our Soup For You...School Supplies For Timbuktu" Fundraiser proceeds will be used to supply desperately needed school supplies for our sister city Timbuktu, Mali, Africa. The cost is a $10 minimal donation. Hackett House is located at 95 W. 4
th
Street in downtown Tempe.
"1 FREE hour parking at Hayden Square Garage"